Heating circuits for modular and modern heating
Heating circuits HeatBloC® standard
At PAW, you receive heating circuits for your modern heating system: Modular heating circuits and modular distribution manifolds in the nominal diameters DN 20 to DN 50. The heating systems from PAW combine maximum flexibility with innovative functions. Whether if your heating system uses exclusively fossil fuels such as fuel oil or gas, or if additionally solar thermal systems are used for the heating support - we offer professional and high-quality components for the efficient heating circuit control.
Premounted groups of fittings for heating circuits, made from high-quality components
At the PAW GmbH & Co. KG, you receive:
compatible components to adapt a heating circuit or multiple heating circuits to the individual conditions on-site as well as to your personal needs
modules for the automatic hydraulic balancing of the heating circuits with the HeatBloC® MCom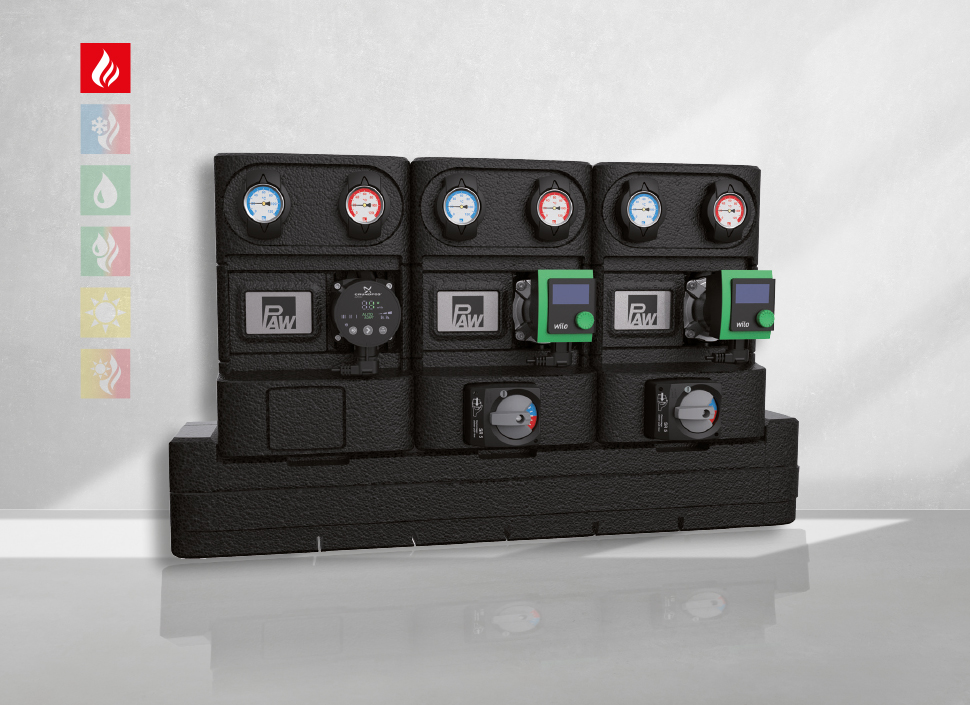 This allows an optimal heat quantity distribution within a building, leading to the desired temperature in every room thanks to the optimal utilisation of the energy provided by the heat generator. Choose if our components are meant to control one or multiple heating circuits.
Advantages of the heating circuit pump groups:
Heating circuits and modular distribution manifolds in DN 20 to DN 50
Spindle gaskets can be replaced during operation
Plug & play solution: different nominal diameters of the heating circuits can be combined using one modular distribution manifold
Heating circuit mixing valve with suitable actuator
Heating circuit: interchange flow and return on-site
Heat pump from WILO or Grundfos can be chosen individually
Individual assembly with wall bracket or mounting bracket is possible
Heating circuits for you new heating system with the HeatBloC® product range
Our product range comprises direct (simple) heating circuits and heating circuits with mixing valve. In simple heating circuits, the heating water is led directly from the heat generator via the flow line to the radiator and led back via the return line. Beyond that, heating circuits with mixing valve contain a controller for the system separation. According to their adjustment, they take water from the boiler and mix it with return water. The result is a constant temperature of the water flow volume. In our modular designed systems, flow and return chambers are thermally separated. We use exclusively brass for production. Thanks to the precise sealing surfaces and compact dimensions, we guarantee an excellent fitting accuracy and a high durability of all components we use.
In short: PAW standard heating circuits are the ideal complement of your heating installation or your new heating system. With us, you will find the suitable module for any purpose, such as for your radiant floor heating system or your boiler charging set. Also for large nominal diameters, PAW offers reliable technology which can be mounted fast and easy. Find out more about our product range. We are happy to support you on the phone; or just fill out the contact form.
Scientific articles (in German):