Solar station SolarBloC® | Solex for solar thermal systems
Solar station for solar thermal systems - flexible use
PAW has years of experience in the production of solar thermal systems. The solar station SolarBloC® is used to circulate the solar fluid in the solar circuit efficiently. In three different nominal diameters, the solar stations are available as entry level version in the product category SolarBloC® Basic or as the fully equipped SolarBloC® Premium. The solar station SolarBloC® serves for charging buffer storage tanks.
The product range Solex includes solar transfer stations and is divided in Solex HZ (heating systems) and Solex TW (domestic hot water installations). Therefore, the modules are suitable for a broad application range of collector surfaces up to 400 m2. Thanks to the wide product range, you receive a maximum flexibility during your system planning.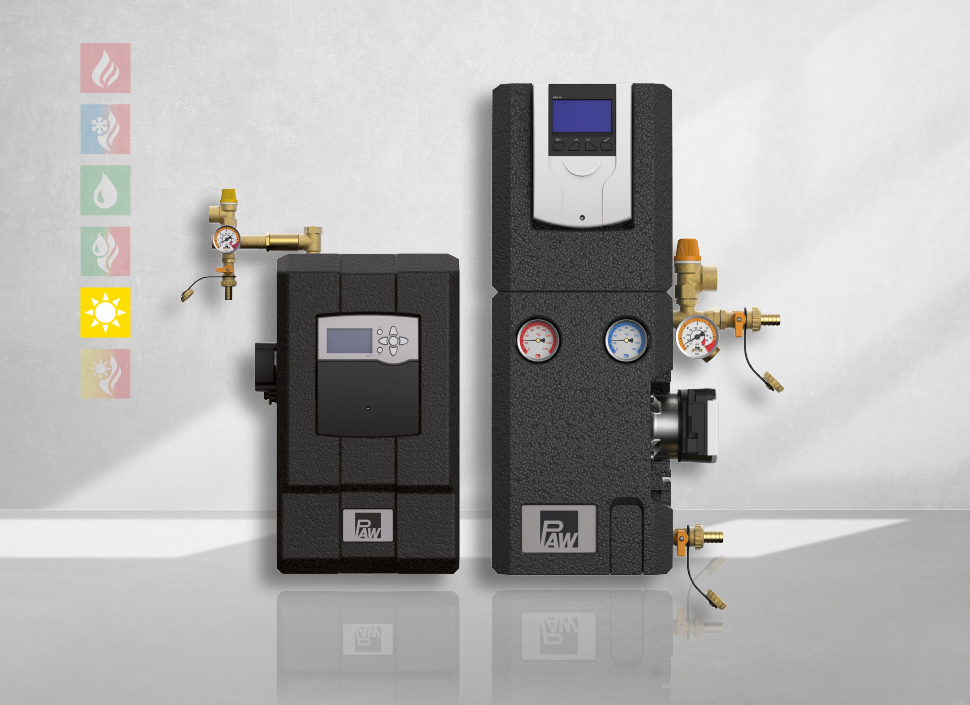 Solar stations for single-family houses and large systems
Our product families in the field solar technology are divided into solar stations and solar transfer stations. This allows you to receive the appropriate system for each application. It can be easily mounted and adjusted!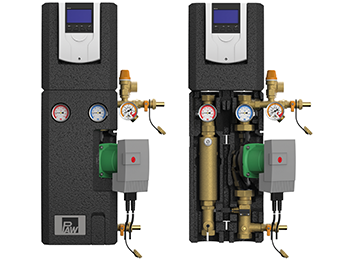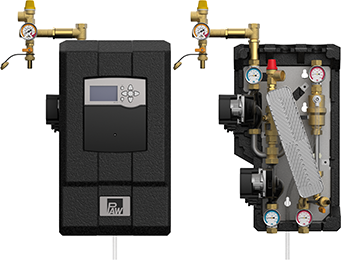 SolarBloC® - solar station
The PAW SolarBloC®s are used to circulate the solar fluid in the solar circuit efficiently. Solutions in the dimensions DN 20 to DN 32 offer a broad application range up to 175 m² of collector surface. To obtain a maximum flexibility during system planning, PAW focuses on the two versions Basic and Premium for its SolarBloC®s. The SolarBloC® Basic is an inexpensive entry level version with functional features. In contrast, the SolarBloC® Premium is fully equipped with additional temperature and flow rate sensors. Individual system requirements, such as heat quantity measurement and the operating modes high-flow and low-flow can be efficiently realised with the suitable SolarBloC® and the optionally integrated controller. The SolarBloC®s use high-efficiency pumps, which offer an extremely broad adjustment range.
Solar station with high-efficiency pump Saves more than 50% of electrical driven energy compared to conventional asynchronous pumps. Solar station with controller Is delivered preset, assembled and wired, thus ensuring easy adjustment to the real system. The optional controller (SC3.10) can optimally adjust the pump speed to the required flow rates in a very broad application range. The compact station is quickly mounted - no long assembly times! This means: simplest commissioning and safe operation are guaranteed.
Solar station 1-line or 2-line as well as 3-line All modules are available with the desired functionality.
SolarBloC® midi (DN 20)
SolarBloC® maxi (DN 25)
SolarBloC® mega (DN 32)
SolarBloCs® are eligible for subsidies from BAFA and CE compliant with DIN EN 60335.
Solex - Solar transfer station
To protect solar circuits of a thermal solar system from frost, they are filled with a propylene glycol/water mixture. The heating installation is normally operated with water. To transfer the heat energy from the solar circuit to the heating circuit, we use heat exchanger. In small systems, a smooth pipe heat exchanger integrated in the storage tank transfers the heat energy. However, with larger collector fields, the heat transfer capacity of those heat exchangers is no longer sufficient.
Therefore, in large systems, solar transfer stations transfer the collected heat energy from the collectors to the heating water circuit. The entire system operates optimally if the plate heat exchanger is adapted to the flow rates and current conditions. The high-efficiency pump ensures the individual control and is delivered preset, assembled and wired. This allows an easy adjustment to your system!
All Solex systems can be used for high-flow and low-flow installations. We offer solutions in the dimensions DN 15 to DN 50 with an application range from 36 m² up to 400 m² of collector surface. The control is carried out via the SC5.14 controller which is completely mounted and preset so than it can be directly connected.
Flow rate sensors allow a power adjusted control and ensure an efficient system monitoring as well as an integrated heat quantity measurement.
SolexMini: up to 36 m² of collector surface (DN 15)
SolexMidi: up to 60 m² of collector surface (DN 20)
SolexMaxi: up to 100 m² of collector surface (DN 25)
SolexMega: up to 200 m² of collector surface (DN 32)
SolexMega Kaskade: up to 400 m² of collector surface (DN 50)
The modules are compliant with CE according to DIN EN 60335.
Scientific articles (in German):