Electronic post-heating for heat pumps
PAW BoostBloC® - the heat pump post-heating module
Heat pumps provide sufficient energy at different temperature conditions in order to offer a high heating and hot water convenience. For the case that this is not sufficient, the PAW BoostBloC® is activated and provides thermal energy additionally via an instant water heater.
BoostBloC® post-heating module - for a high heating and hot water convenience
The post-heating module is a preassembled group of fittings for heat pump applications. All electronic components such as the instant water heater or the pump can be isolated by means of the ball valves. They can thus be maintained easily without draining the heating or charging circuit system. The PAW BoostBloC® is mounted directly at the wall and serves to post-heat a storage tank. The system can be extended by further components as a domestic hot water module or a heating distribution manifold.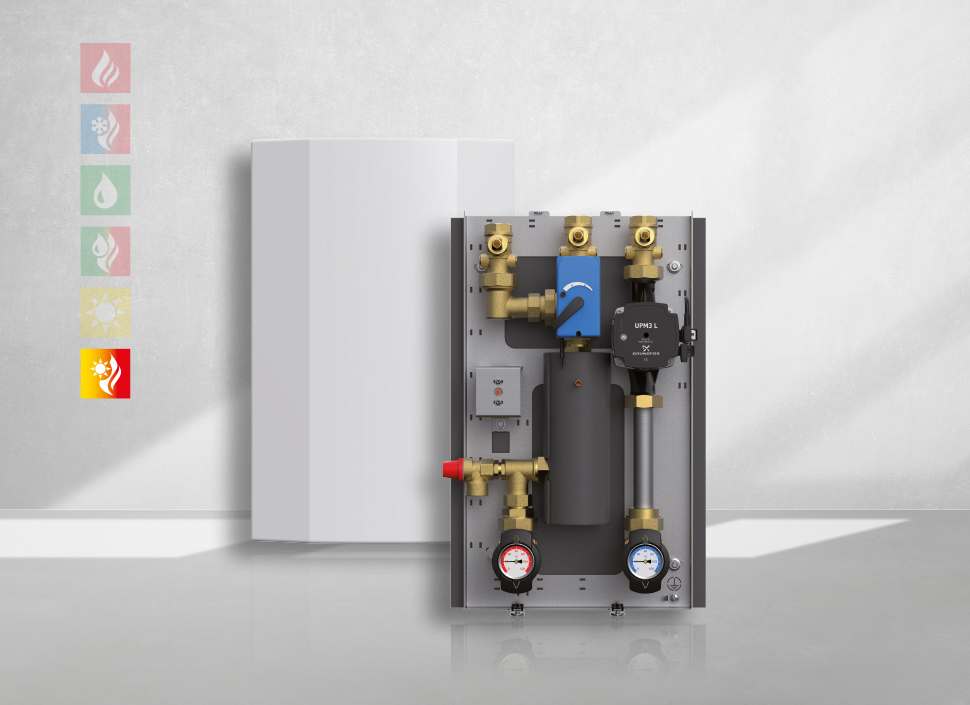 Advantages of the heat pump post-heating module
Pump group adapted to the requirements of a heat pump
Integrated electrical post-heating to ensure the heat supply, even at critical outdoor temperatures for the heat pump
Highest safety thanks to the safety temperature limiter (STB)
Fast-acting three-way valve with constant flow, even in the switching process
Instant water heater which is actuated via a power contactor
Flexible pump control via PWM signal or relay (hybrid pump)
Application range of the PAW BoostBloC®:
Post-heating at low flow temperatures (e.g. for solar thermal systems)
Optionally required for the thermal disinfection of domestic water installations in combination with heat pumps
Air-to-water heat pumps, for very low outdoor temperatures
Absorbing of peak loads in the consumer circuit
The station requires an additional controller and is normally actuated by the heat pump controller. It is connected to the external controller via the enclosed small distribution manifold. Via a post-heating request (230 V) of the controller, the power contactor is actuated, which is integrated in the small distribution manifold. In the type with contactor, there is no power control; only the one preset power (8.8 kW) of the tubular heating element is actuated.
Depending on the controller and connection type, the pump can be connected simultaneously to the heat generator or separately.
For an independent valve control of the integrated flow stratification, a continuous phase as well as a further switch contact are required.
Do you have any questions about the BoostBloC® and its functioning or its field of application? Please contact our telephone support team at +49 51 51 98 56 0 or send an e-mail.
Further informations (in german)